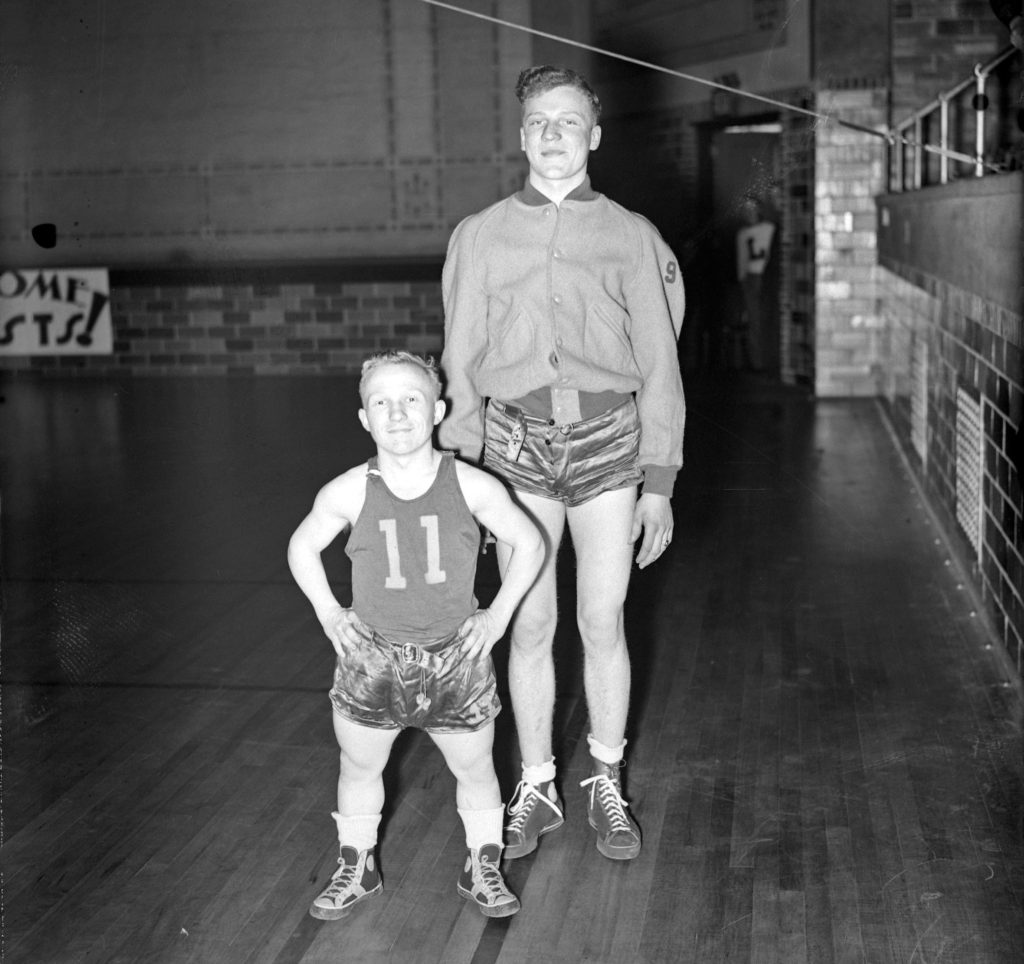 Look around and you will find amazing stories everywhere, tucked away, hoping to be discovered. Sometimes the stories require searching to flesh them out. Such was the case of a glass photo negative discovered in a box. The player wearing number eleven was Leon Antrim. Leon grew up in Stillwell, Indiana. He and his teammate, Clarence Spier, were photographed in the LaPorte Civic Auditorium on March 5, 1937. But, why?
In the first half of the twentieth century, there were fifteen high schools in LaPorte County, Indiana: two city schools, LaPorte and Michigan City Elston; one Catholic school, St. Mary's; and twelve rural, township-run schools with fewer than 100 students apiece. Stillwell High School was one such school. It enrolled approximately fifty students that year.
That season, Stillwell had nine boys on the varsity basketball team. When the regular season ended, a reserve player moved up to the varsity to fill the ten-player roster allowed by Indiana High School Athletic Association's state basketball tournament. For the first round of the tournament, the Sectional, Coach James Wyatt promoted sophomore Leon Antrim.
Leon was the youngest of nine kids and despite the fact his parents both stood nearly six-feet tall and five of his siblings were average height, Leon and three other siblings reached four-feet tall and then stopped growing. As a result, Leon was the shortest member of the Stillwell Vikings basketball team and the shortest player to participate in the LaPorte Sectional Tournament.
But Leon didn't join the team to be a mascot or the butt of jokes. Look again at the photo. Leon's pride and confidence stared into the camera lens.
In 1937, the Stillwell Vikings advanced to the Sectional semifinals where they played a talented small-school opponent, the Union Mills Millers. Stillwell was good, but Union Mills was much better. The Millers beat the Vikings, 39 – 13. Coach Wyatt gave all of his team members a chance to play and Leon Antrim checked into the game.
Anytime Leon took to the court, the crowd grew excited. It being the Sectional tournament piqued the crowd's interest even more. Most people had never met Leon, let alone seen him in uniform on the basketball court, a venue that favors tall players. Everybody wanted to see what would happen. Would he get a steal? Would he grab a rebound? Would he take a shot? Would he score? That would be something if he scored a point.
The crowd kept its expectations in check, but watched hopefully. Then, a player from Union Mills fouled Leon. Having listened to stories about Leon Antrim, there is no question that he was fighting for a rebound, a steal, or a loose ball. That was his nature.
The players lined up along the free throw lane and Leon—all four-feet-nothing—stepped up to the free throw line to take his shot. Spectators scooted to the edge of their seats, watching, waiting, to see what would happen next.
Leon was a competitor through-and-through and never lacked self-confidence. He loved being part of the team and playing with the guys. His height kept him from getting into many games, but when he played, he played to win.
He had a deep, booming voice and was a notorious flirt always complimenting the girls in school and women he encountered. In reference to his flirtatious demeanor, his classmates wrote, "His chief like is attending the cinema, especially those types that touch his romantic spot."
"He was definitely a ladies man," said Bea Kessler, Leon's niece, pointing out he always had a woman in his life.
In addition to his competitive drive, he had a sense of humor. For years, he participated in a mock wedding at an annual variety show. Leon played the role of the groom and the tallest man in Stillwell, well over six feet, played the bride. Years later, Leon told people he ran circles around opposing teams and ran between opponents' legs when he played basketball. But when he got into a game, it was serious business to Leon. And there was that game in the Sectional when Leon got fouled and he stood at the free throw line.
No sportswriter wrote much about the game—it was a blowout after all—but the following day the photograph of Leon and teammate, Clarence Spier, appeared in the local newspaper. Part of the caption read, "the crowd roared their approval when he sank a free toss."
Imagine the cheer that must have gone up to the rafters! Everybody loves an underdog, especially Indiana basketball fans. What better than a four-foot player in there fighting and scrapping, scoring a point in the state-wide tournament?
And so it was—Leon Antrim officially became a part of Hoosier hysteria.
One shot. One made basket. One point.
Leon played basketball for Stillwell High School the next two seasons. Stillwell had good teams and won back-to-back LaPorte County Basketball Tournaments his junior and senior years. In 1939, the local newspaper recognized Leon's entrance into the county tourney: "Leon Antrim was given a great ovation when he entered the game for the Vikings in the last quarter." Stillwell defeated its arch-rival, Mill Creek, 43 – 16, that night, but Leon didn't score any points.
In fact, throughout the three years he played basketball, Leon Antrim scored just one point—March 5, 1937, the day he sank a free throw in the Sectional in the LaPorte Civic Auditorium.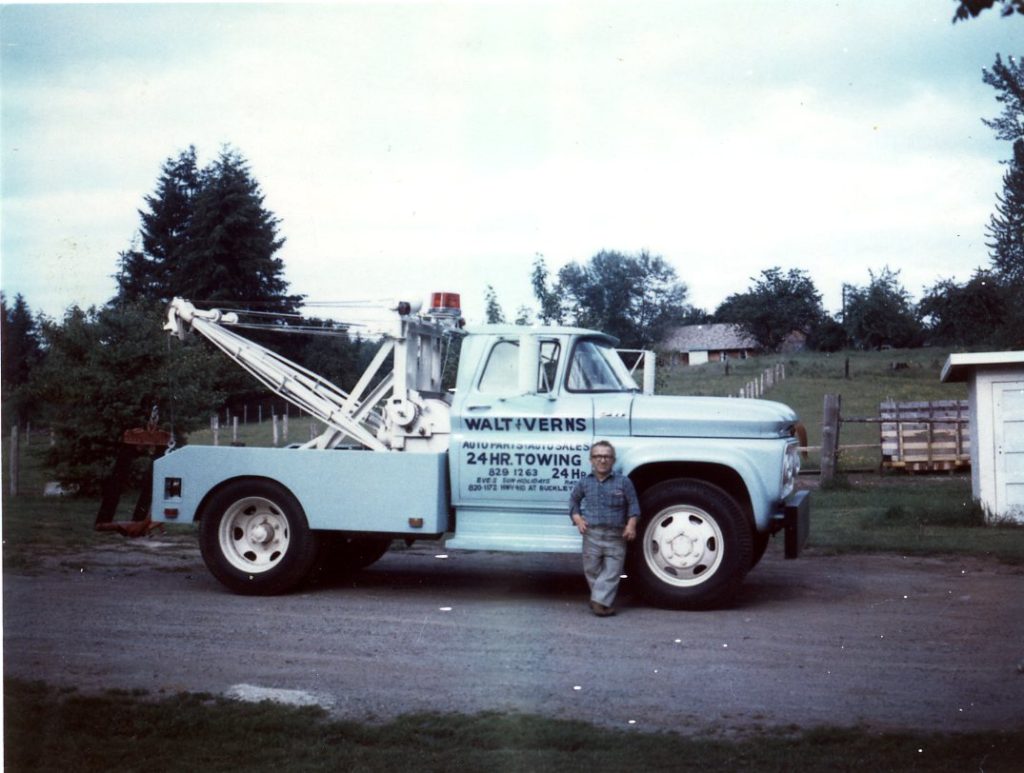 After graduating high school, Leon worked as a crane operator in LaPorte. He got married, had four sons, and moved to Washington state. First, he worked as a riveter on Boeing airplanes and then operated a tow truck business with three garages. While dragging a ditched car up a cliff, a stranger snuck up behind Leon and knocked him off his truck, fracturing his hip. When Leon recovered, he returned to his truck, but carried a pistol when he went out on a call.
Leon loved to cook, was mechanical, always working on cars, and had blocks on the pedals of his vehicles so he could drive them. He was always on the go. "There wasn't nothing he wouldn't try," said Kessler.
He once loaded up a van with all the food he'd need for a road trip to Alaska. When he got there, a bridge was out and wouldn't be repaired for twenty-four hours. There were five other cars stranded until the bridge was repaired. Leon broke out his supplies, cooked for everyone, and turned it into a big party. When he arrived at his destination, he had run out of food. That was OK. He dealt with it.
One of Leon's girlfriends once shot a moose in Alaska. Unsure how to move the giant animal, Leon was undeterred—he winched it on top of a Chevy El Camino and off he went.
A few years before his death, Leon retired as a tow service dispatcher and returned to Stillwell, Indiana. His niece refitted the house next door for him and he supervised the project, as always.
Leon was the last of the Antrim kids brought into the world and the last one to go. In 1990, at age sixty-nine, he collapsed in his home. Until the end, Leon was a fighter, a struggler, and a lover of life. And he played a small role in Hoosier hysteria.
© Matthew A. Werner
When I uncovered the story behind the photograph, I was excited and told my friend, Curt, all about it at the tavern.
"Boy, wouldn't that be something if that was the only point he ever scored," Curt said.
"Damn you," I said.
Three trips to the library and countless hours searching through microfilm newspaper archives, I uncovered Leon Antrim's career points total. Back in the tavern, I delivered the answer to my friend: One. Curt laughed. "Sorry about that," he said, "but wasn't it worth it? It definitely made for a better story."

It definitely did.